Truck Accessories
Do you need professionally installed truck accessories to help your vehicle achieve its full potential? From aesthetic upgrades to improved functionality, Original Soundz of Saratoga has you covered when it comes to pickup truck accessories. We're Saratoga's reliable and affordable choice for truck accessory installation, prioritizing quality workmanship at some of the lowest prices in the local area. If you care about accurate installation for long-term use of truck parts and accessories, you've come to the right place. Call now to get a free cost estimate for the custom truck accessories you need, and to book your appointment in our shop!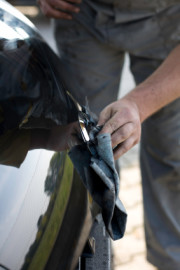 At Original Soundz of Saratoga, your truck accessory customization options include:
Trailer hitches (class 1-3)
Electronic brakes
Strobe lights
Window tinting
Custom audio and video systems
Backup cameras
Security systems
Power windows
Breathalyzers
And much more!
When you come to us for truck accessories, you can be sure you're going to work with skilled and knowledgeable pros who have what it takes to install truck parts and accessories that will work as hard as you need them to, long term. We have 35 years of experience installing pickup truck accessories, and we'll call on that experience to ensure your needs are met. You can count on Original Soundz of Saratoga for nothing less than a great overall experience.
Free Cost Estimates for Trucks Accessories
If you've been holding off on installing the custom truck accessories of your dreams because you're uncertain about the potential cost, you can stop waiting. Original Soundz of Saratoga is pleased to offer free estimates for installing everything from trailer hitches and electronic brakes to truck bed covers and mud flaps. We'll quote you a price that is reasonable and honest, and we're confident you'll find it to be among the lowest quotes you'll get for quality trucks accessories in the local region.
For more information about why we should be your only choice for pick up truck accessories in Saratoga, call now! We'll answer any questions you have and schedule the earliest available appointment to get started on the work you need. Get ready to have a truck that completely meets your needs, with help from Original Soundz of Saratoga. 
Grill Guards
Truck Bed Covers
Mud flaps
Brush Guards
Truck Accessories in