Remote Car Starters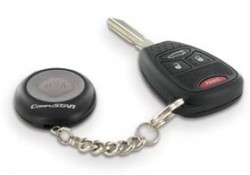 Do you hate climbing into a freezing cold car in the winter or a stuffy, steamy car in the summer? Why not install a remote starter? Remote starters allow you to start the engine without being in the vehicle. That can mean warming up the engine or getting the air conditioner going before you're ready to leave. Increase your comfort behind the wheel and lengthen the life of your engine by calling Original Soundz of Saratoga today to discuss remote car starter installation. As Saratoga's premier choice for vehicle components including remote car starters, we bring together top-notch workmanship and reasonable rates to give you a great overall experience. We're standing by to take your call!
Original Soundz of Saratoga can walk you through the remote starters on the market, helping you select one that's right for your specific needs. In addition to a car starter that gets the engine running, feature options might include:
Keyless entry
Car alarms
Time control options
Cut-off switches
Car locators
You can count on Original Soundz of Saratoga to sell you a remote starter that meets your exact wants and requirements. Because we put quality craftsmanship first, you can expect us to carry out remote starter installation promptly and properly, leaving you with a vehicle that has enhanced convenience and safety. If you're interested in saving time on busy mornings or avoiding the worst of winter's chill and summer's heat, let us put in a remote car starter you'll enjoy for years to come.
Experienced Car Starter Specialists
Choosing Original Soundz of Saratoga for remote starter installation means working with some of the most experienced professionals in Saratoga. We've been in the business of setting up automatic starter systems and other mobile electronics for 35 years, having launched Original Soundz of Saratoga in 1989. Those decades of experience have given us extensive knowledge and skill in working with car starters, allowing us to get the job done right for you the first time. Put your trust in the company that has what it takes: Original Soundz of Saratoga.
We're pleased to stand behind our workmanship with a lifetime warranty, and to adhere to a one-year manufacturer's warranty for all of the car starters we install. As a fully insured business, we want you to breathe easy and feel like you and your vehicle are in good hands. If you're eager to be able to start your car from a distance, with only a push of a button, we're here to help make that happen. We can even install a car remote starter in each of your fleet vehicles, if you own a car service or similar business. So call or e-mail Original Soundz of Saratoga now to learn more about remote car starters, to get a free cost estimate, and to book your appointment with a member of our team. 
Remote Starter
Car Starter
Automatic Car Starters
Remote Start System
Remote Starters
Remote Start